About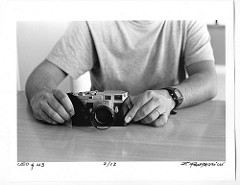 Leonardo Alves, Photographer.
Photography is a passion. It's the way that I found to understand myself.
Most of my work is on traditional Black and White (35mm, medium format and large format)
Influencers photographers: Bresson, Salgado, Adams, Sexton, Koudelka, Erwitt, Burri, Webb, Mccurry, Natchwey, Turnley, Newton, Karsh, Penn...
Gears that I prefer: Rolleiflexes and Leicas M.
My craziness is understand and practice the full process of the analogic photography (from capture to print).
Since 2010 I've been doing some exibithions.
The Expressive Black and White Print Workshop at John Sexton's Studio (Carmel, CA - USA), March, 2016 (Portfolio Presentation). Great life experience.